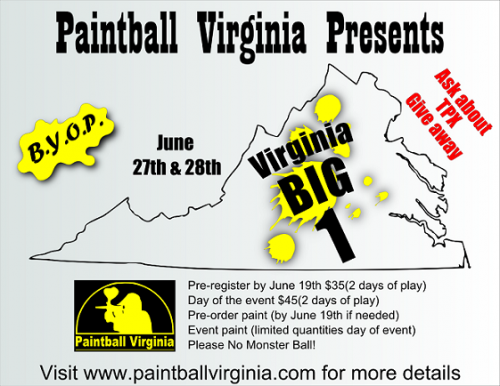 Paintball Virginia announces a pre-registration prize for the Virginia Big 1! Bart from Paintball Virginia, during the players' meeting of The Phoenix Project, proclaims, "I will give away a new Tippmann TPX to one lucky player who pre-registers for the Virginia Big 1."
The Virginia Big 1 will be held at Paintball Virginia in Danville on June 27th & 28th. The price to play for the weekend is only $35. This includes both HPA & CO2! The best thing about the Virginia Big 1 – it's BYOP, no Monster Ball is allowed. The field, however, will have fresh paint available for a pre-registration price of $45 per case.
Pre-registration closes at 11:59 pm on Friday, June 19th. At which time, every player who has paid for their pre-registration will be entered into the drawing for the TPX. The drawing will take place at the players' meeting on Saturday morning of the Virginia Big 1. Players need not be present to win. 100 players must be pre-registered for the TPX to be given away. If 100 players are not pre-registered, Paintball Virginia reserves the right to substitute another pre-registration prize.
For more information, visit http://www.paintballvirginia.com , email [email protected], or call 434-713-8170. Paintball Virginia is a field in the process of building an empire. They are constantly adding bunkers and acreage to their field to make it a must-play field for all woodsball players.