UPDATE: Ok, so NPPL could be canceled… Houston is totally out of power.
"The transmission trouble is primarily south and east of that line, running from the Astrodome area to the Ship Channel and encompassing neighborhoods from Bellaire to Baytown" (Houston Chronicle).
For those who don't know the Houston area, the Astrodome is right next to Reliant Stadium. So no power at Reliant = no power for the hotels near Reliant.
"it could take a couple of weeks to bring those installations back to working status… The power companies are warning resident it will be a long, painstaking restoration process to get power flowing again" (Houston Chronicle)
NPPL could relocate to Katy, a suburb of Houston, because as of now, Katy has power. The event could be held at the Merrill Center, thier parking lot seems likes it can accomodate the vendors and field set-ups. Granted a relocation would cause some problems with hotel reservations but a cancellation or postponement would cause the same problems as well.
Also, Chad's, our graphics designer, family is in the areas of Houston where there is no power. James' house lost some shingles off the roof. And I still hate you Hurricane Ike. FUCK YOU!! Hurricane Rita was a category 3 upon landfall and did less damage than you. You fucked shit up as a category 2 upon landfall.
As many people should know, a hurricane, Hurricane Ike, made its way to Houston last night. Some talk has been going around that this hurricane could have screwed things up for NPPL Houston. Well, from the looks of it, Ike did nothing major to prevent the event from happening, unless NPPL had plans of putting center court in Reliant Stadium because that's not possible seeing as Ike sort of fucked up the stadium. $352 million building ruined by a weak ass hurricane. Ike broke the retractable roof of the stadium.
The storm tore chunks off the stadium's retractable roof… The retractable roof on the $352 million venue rolls open in nine sections, five of the sections were missing and large pieces of debris had fallen into the stadium(The Associated Press).
OH NOEZ LOOK AT THE DAMAGE TO RELIANT STADIUM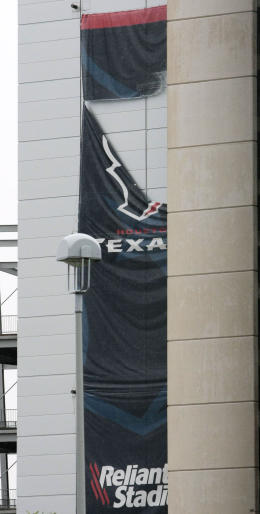 Some news I just heard in the middle of writing this post: the roads to reliant have been blocked due to debris and some random trees. I assume that this debris can be cleared up within 4 days. Just send a bull dozer down the street. That should work.
Debris is the Streets of downtown Houston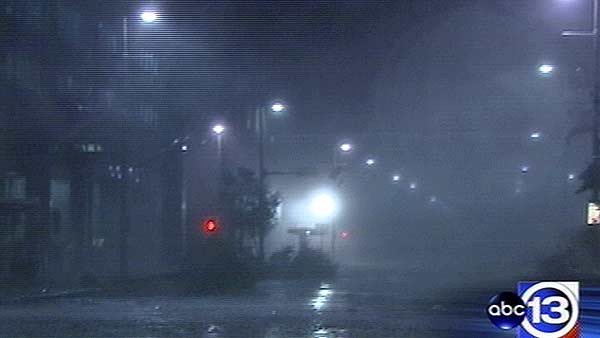 Not only did Hurricane Ike fuck with Reliant but it damaged my parents house as well. FUCK YOU, IKE! You owe my parents a new fence and shed door and you knocked over my basketball goal. Also, you tore down James' grandmother's fence. On another note, DirectTV, I don't like you either since your signal cuts out when it rains and gets really windy which left my parents with no tv to watch which is pretty much the only thing you can do when there is a hurricane. Comcast, I dislike you as well because your service zone ends one fucking block before my parents house. Or I assume it does since my parents got DirectTV after the buy-out. Not that I have to deal with DirectTV that much, only when I visit my parents but none the less, DirecTV sucks ass.
Ike also brought him in…watch out! They are the #1 threat to America especially since now they are willing to swim across rivers, climb a dock,  jump on a boat, maul you, and refuse to get off with people fighting to pry you two apart.