Virtue has come out with a gearbag. It's really a back pack but can accommodate as much as a regular gearbag.
Introducing Virtue's Bugout Bag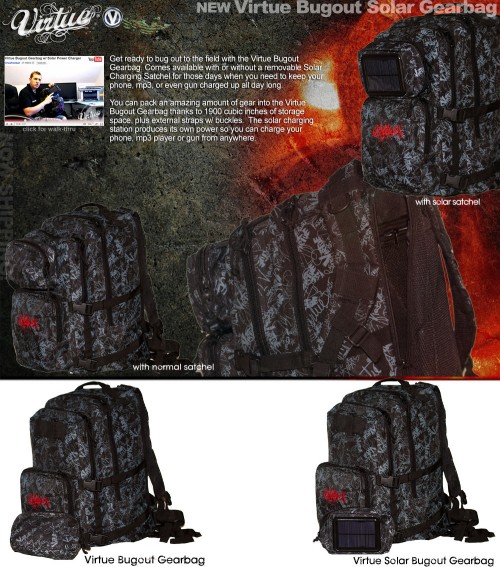 Get ready to bug out to the field with the Virtue Bugout bag. Comes available with or without a removable Solar Charging Satchel for those days when you need to keep your phone, mp3, or even gun charged up all day long.
You can pack an amazing amount of gear into the Virtue Bugout bag thanks to 1900 cubic inches of storage space, plus external straps w/ buckles. The solar charging station produces its own power so you can charge your phone, mp3 player or gun from anywhere.
Key Features
* Removable Solar Charging Satchel (optional) w/ multiple adapters for phone/mp3
* Heavy duty Ballistic Nylon Construction
* 1900 Cubic Inches of Storage
* Padded, Adjustable Shoulder Straps
* Padded, Adjustable Waist Belt
* Padded Back w/ Hidden Gun Pouch
* Side Compression Straps, Useful to Attach Harness, Goggle, etc.
* Two Large Main Compartments (12x18x6" combined)
* Mid-Size Back Pouch (9x16x3")
* Rear Back Pouch (9x7x2")
* Removable Satchel w/ optional Solar (7x5x1.5")
* Solar Satchel includes 7 charging adapters for (Blackberry, LG, Nokia, Samsung, Sony, USB) – plus iphone/mp3 usb cables simply plug right in using your stock charging cable.
* Inner, Outer mesh pockets, compartments, etc
* 15" Laptop Pouch (main compartment will hold up to a 17" laptop)
* All-Over Screen Print w/ Embroidery