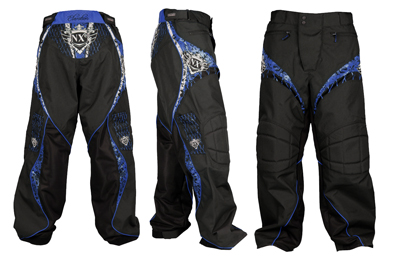 Specs for the NXe Elevation Pants
-Lightweight Shell: We hand-picked the lightest and most durable materials to ensure that the Elevation pant will be the lightest pants available while providing the durability and protection you need to play in any conditions.
-HD-Foam Padded Knees: Hi-Density, flexible foam contours with knee and leg for advanced protection and a comfortable fit.
-4-way Stretch: Responsive stretch system in crotch, inner thigh and entire upper trunk/lumbar area allows for agile movement and adds superior stretch to key areas of pants. Unique 4-way stretch from knees top of pant endures proper give when bending and moving while adding durability and reducing wear and tear.
-Internal LiDi Padding: Light-density foam throughout internals allow for added protection to reduce risk of injury as well as reduced unnecessary paint breakage.
-Removable Hip Pads: Constructed of breathable lightweight foam
-Slim Profile, Protected Squeegee pocket: Low profile pocket for swab/squeegee placed in the ideal spot for the quickest possible draw. A thin layer of foam protects the pocket from unnecessary breaks
-Adjustable Ankle Cuffs: Fully adjustable Velcro cuffs for support and custom versatility
-Water Resistant Pockets
-Fully Adjustable Waist Belt: customizable fit with adjustable Velcro closure straps, as well as full belt loop option.
-Lightweight, Breathable Mesh Lining: Custom printed lightweight breathable mesh lining through for ultimate comfort and feel.
-Harness Traction Pad: Extra support and seamless integration with harness.
-Venting: Most breathable pants in paintball. Period. Entire back leg lined with durable, yet fully breathable material; perforated neoprene in crotch area for extra padding.
Colors available: Black, Olive, Red, and Blue
Sizes: Med-XXXL
MSRP: $99.99