I stopped writing event articles when the magazine Paintball Games International (PGi) went out of business in the late aughts. I am not even sure there is a place for a full length paintball event article in this world of tweets and ADHD, but this was a moment in paintball that I think deserves more than the typical quick summary or list of winners. At the last moment, I decided I couldn't miss out on playing the inaugural National Xball League (NXL) event and drove up to play and see if the NXL staff could really pull off an event of this size with so little time to prepare.
Let me get this out of the way: the Great Lakes Open NXL event went very well. The venue was excellent and the fields were set up well for the 135 teams that competed. Victory Park was (and hopefully still is) beautiful, the grass was lush and a pleasure to play on and (I can't believe I am saying this about Cleveland) I hope the NXL returns. The airport was close, there were plenty of gas stations practically right next door for batteries and water, there was real food on site and restaurants nearby, plenty of parking and most hotels were only an exit or three away. I disliked walking on the oversize gravel, but that's pretty much the worst thing I can say about the location and that's being real petty. It was even cool seeing the little league baseball players come through to check out paintball for the first time.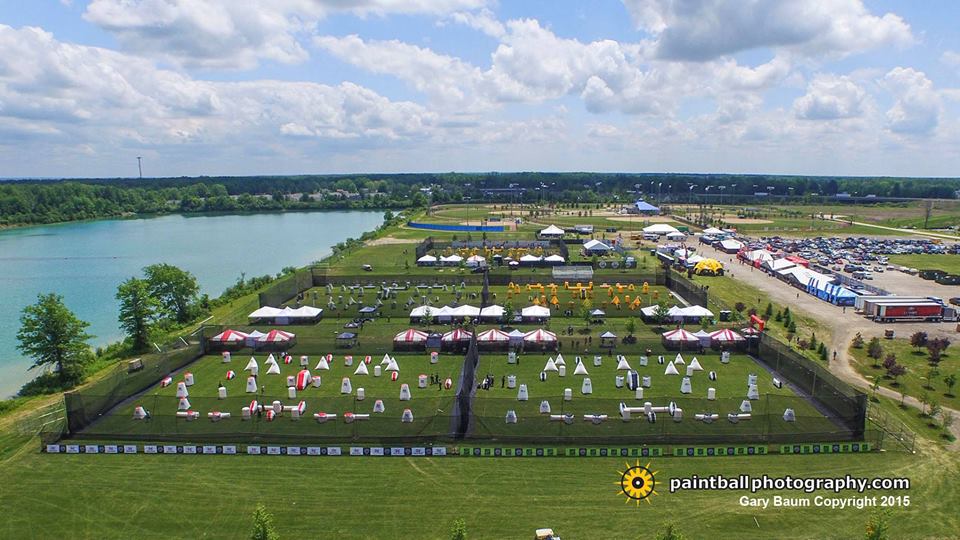 Drone Photo by Gary Baum
National paintball tournaments are typically outdoor events, so the weather is always a huge factor. With rain predicted for nearly the entire week, the NXL looked as though it would have a trial by water right out of the gate. However, the rain never hit and the curse of bad weather for national events may be broken. You could even see how the venue was set up to help drain water if the rain ever did threaten, but the weather was simply beautiful. The Paintball Sports Promotions (PSP) national league was partially done in by the amazing amount of rain and mud in Dallas, and it's sad that tournaments are often judged by something so far outside of the promoters' control. At some point, the NXL will be tested by inclement weather, but Great Lakes Open dodged that completely.
I have yet to attend a perfect paintball tournament, but this one was pretty impressive, especially for the inaugural event of a brand new series launched in the middle of the year that started pretty much from scratch. The attempted PSP buyout did not go through, so that left the NXL without much time to make sure they had everything covered to run a quality national level event and webcast without any of the materials already purchased and in place.
It was impossible to attend the NXL event and not think about past PSP events. The NXL became the direct replacement as the premiere US national competitive paintball series almost overnight. They pressured the PSP essentially out of business by pulling the professional teams in, drawing the allegiance of the local leagues and offering a replacement series for the divisional teams. The similarities between the two leagues were too numerous to mention, and that's actually a good thing. The PSP raised the standard for running national level paintball events. So it's no surprise that lots of the very same people who have helped run national events were there. Camille Lemanski, Tom Cole, Burt Wright, Bart Yachimec, Marcus Shepherd, Chris Raehl, Joe Rieger, Amanda Gruhlke and many others were working to ensure the NXL got a proper launch. The APPA was in full force hustling to make sure registration was smooth and painless. Tom (in his ever present golf cart) could be seen everywhere either putting out small fires or accepting credit for pulling this all off without major incident. Many of these people went straight from the PSP to the NXL while others hadn't been working on the national scene at all this year until this event.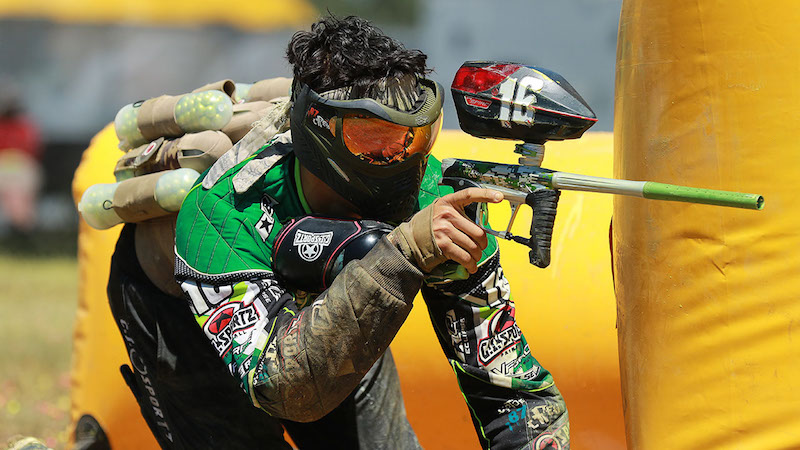 Upton 187 cRew Photo by Sarah Kuhnke
The tournament and the games themselves saw the introduction of several "new" elements that either fell out of favor years ago or are already used overseas in the Millennium.
Coaching is no longer allowed from the sidelines in any division and the players and fans seemed to really appreciate the shift. Crowds were respectful of this rule change and players seemed to really take advantage of this with moves that previously would have been given away by the crowd. Variations of Xball have been around since 2002 and this is the first time all the divisions got to enjoy playing without interference from spectators. It allows more potential movement and a lot of stealth that has been missing from the highest level of paintball for years.
There's no penalty box anymore in the pro division. This allows all the divisions to have a more similar set of rules (divisional matches haven't had penalty boxes in forever), but it takes away some of the drama of having to play short, watching the clock for a player to come out of the box when a penalty expires and the chance to run up the score in a power play.
All games are now Split Deck until Sunday. That means two sets of teams take turns alternating points on the same field. Since there is now only one minute between games, it gives the refs less rest and less time to clean bunkers between points, but now teams have the full 2 minutes they were used to between points plus the entire length of the point played between the other two teams they are alternating with. As a player, I enjoy it. I'm old and a bit lazy, so I like the extra down time between points. It removes a lot of the drama of fast turn arounds and that can be seen as good or bad. The Millennium has been using Split Deck for years and the overall feedback was positive from players.
The NXL has done away with the Challenger's Division from PSP as well as promotion and relegation. The NXL decided instead to put all 16 pro teams into one large pro division. On the plus side, Split Deck allowed all of the pro games for the tournament to be played on one field and for the first time, all of the pro games were webcast. Unfortunately, that also means none of the drama of teams fighting to keep their spot or earn a pro spot back. I personally loved Champions and Challengers. Teams fought their heart out to advance or stay in the top division and it was tense to watch top teams who slipped up at an event because no one wanted to be bumped down to Challengers. Every pro game mattered with Champs and Challengers. Even if a pro team knew they weren't going to advance, they still had to play tough to win as many games as they could or risk relegation. Teams however hated Champs and Challengers since 40% of the teams had to play off to see which two teams would be relegated each tournament. Only Impact has never had to play for relegation and several top teams, like Houston Heat, Infamous and Dynasty, were relegated at least once. I sincerely hope it is brought back simply because of the drama. Some of my favorite matches last year were games to see who was going to be relegated or promoted.
This paragraph was added on 6/21/15
Games are no longer a race to a fixed amount of points. Now games don't end until the time is up or until one team pulls so far ahead that the "Mercy Rule" kicks in and the match is called. This allows for potentially more points, but a relatively slow layout meant that scores stayed low. A faster layout (and more rest between points due to Split Deck) could mean higher scoring games.
The rate of fire has switched to Millennium Mode for all divisions. Guns still ramp and the rate of fire is still limited to 10.5 balls per second (BPS), but it takes a higher rate of fire (ROF) for the ramp to kick in and a higher ROF to sustain the ramp. Overall it didn't appear to make much difference during any of the matches aside from on the professional field. The Pros played the Dallas PSP on "True Semi" which severely limited their ROF to an almost turn of the century pace. I personally would have liked to see more games played on True Semi before abandoning it, but that was one of the PSP's most contentious decisions and it was introduced to both the pros and fans poorly, it looks like True Semi is dead.
The NXL also appears to be paying attention to the players and willing to fix things as errors are discovered. They changed tie breakers away from "points accumulated" as soon as they realized the Mercy Rule messes that up. This also is hopefully the last time we'll see a coin flip to determine which field would be used at the event. That was one of those ideas that seemed good on paper but just didn't work well at the tournament. Most teams would have preferred the other faster layout, but the coin decided on the slower one. I wouldn't mind a voting system to replace it, just as long as it wasn't just pro teams voting. [edit – it looks like it will be a single layout announced 2 weeks before the event, so they did listen to the players.]
There are no longer any game flags to hang, instead teams just have to hit a buzzer behind their opponent's flag station to end a point. This allows an occasional point to end with live players from both sides on the field since a player doesn't have to pull a flag from the center. It would also cause one of the most controversial moments of the tournament with a very questionable penalty on Dynasty which affected the outcome of a must-win match and possibly the whole tournament. More on that later.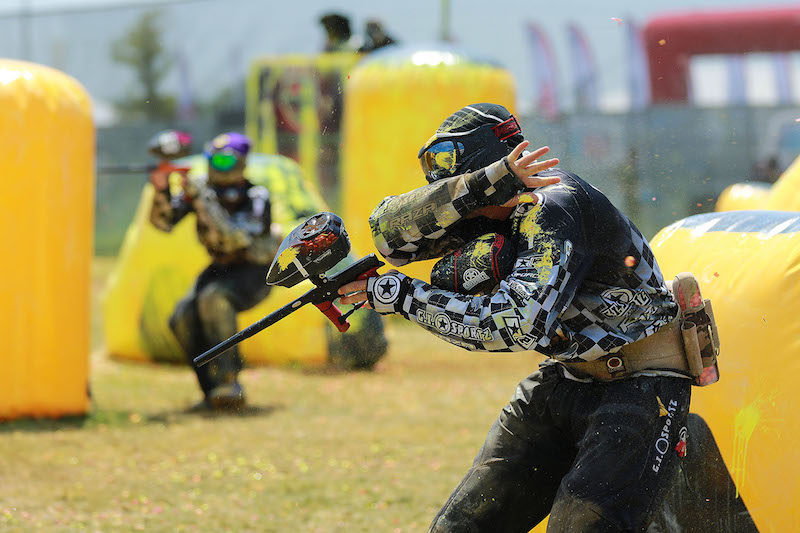 Impact Photo by Sarah Kuhnke