Tippmann Offers New Trigger Upgrade for Crossover Marker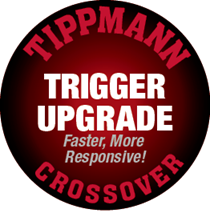 Last year we launched the Crossover marker but this week we are excited to introduce an upgraded trigger for the marker, which provides a "lighter" and more responsive pull.
The newly-enhanced trigger was developed based on feedback from players looking for a lighter trigger pull in both electronic and mechanical mode. The new trigger will be integrated immediately into all new Crossover markers shipped from Tippmann's Fort Wayne facility. It is also now available to all Tippmann dealers as well as any player who already owns a Crossover. To secure a free upgrade kit, players simply need to visit Tippmann.com and click on the "Free Upgrade Kit" icon located on the homepage. (Note, to get to this page use this link Trigger Upgrade)
From Denny Tippmann:
"We lightened the weight of the trigger by over 65 percent. And, by doing that, we were able to decrease the trigger pull by 50 percent. The new trigger is factory set at 4 oz. and meets all ASTM standards. We think players are going to respond very favorably to this enhancement. It makes our popular Crossover even more responsive and easier to fire."
The new trigger has been tested by many top scenario and tournament teams, including the Tippmann Effect, who will be using the Crossover with the upgraded trigger in the upcoming NPPL event in Huntington Beach. Of course, Greg Hastings will also be playing the enhanced Crossover during this year's Tour of Duty.
We feel the enhanced trigger and our recently announced a lower price for the Crossover at $349 will now provide all players a great marker at a price that many can afford.
If any player wants the new trigger, simply fill out the form on this page. Trigger Upgrade